Getting started with Royal Icing (Lemon flavour)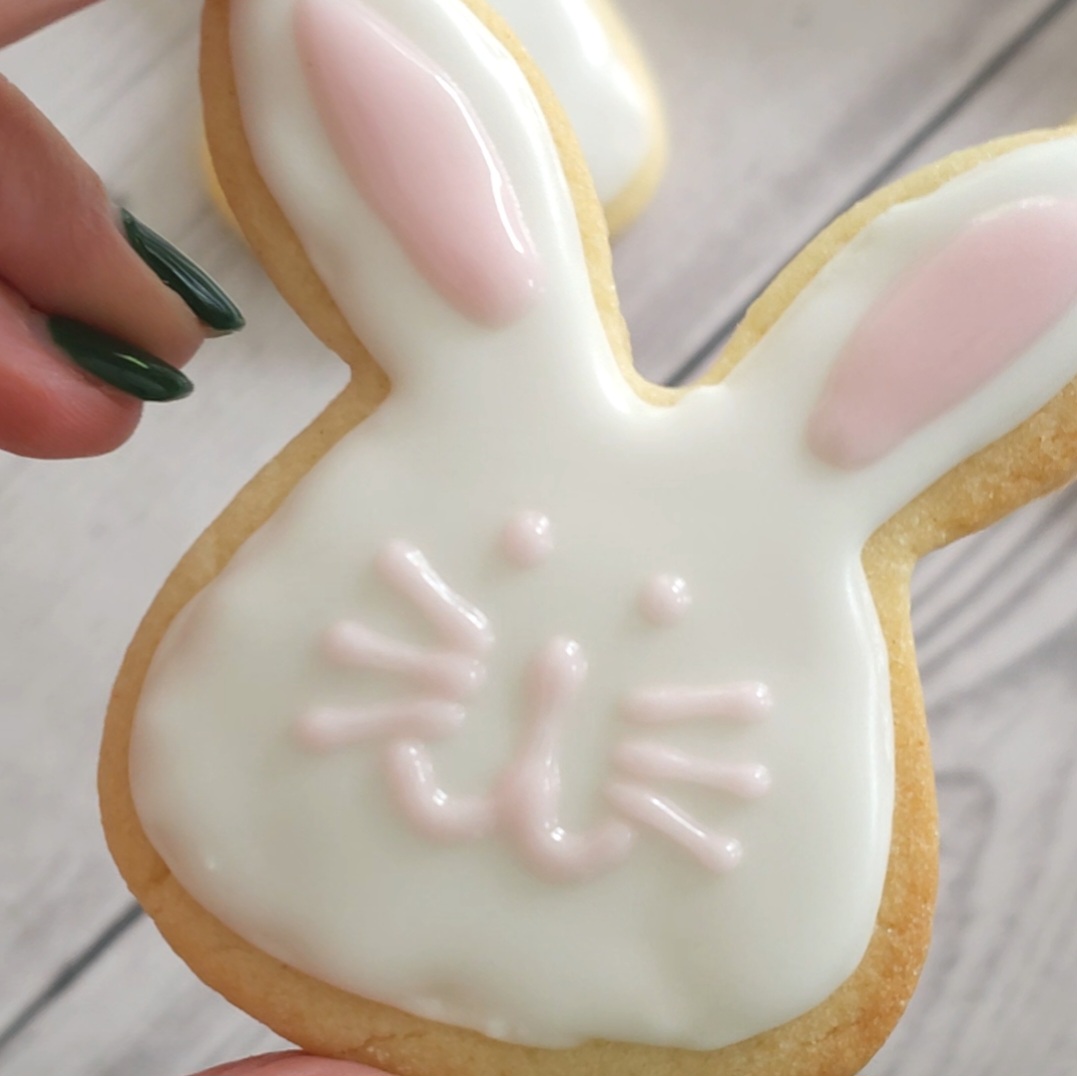 What is Royal Icing?
Royal icing is a type of icing that is commonly used in cake decorating and cookie decorating. It's made from powdered sugar, egg whites, and sometimes lemon juice or cream of tartar, and it dries hard and glossy. The recipe I am using has no egg whites and just lemon juice and has a lovely lemony taste. However, if you are looking for an alternative that doesn't have the lemon taste then look at this post. I will be trying this soon myself.
Royal icing has been around for centuries and was originally used to decorate the wedding cakes of royalty in England. Over time, it became a popular choice for decorating all kinds of cakes and cookies, and today it's still widely used by both professional bakers and home cooks.
As a beginner, getting started with royal icing can be both exciting and daunting. That's why I've decided to document my journey as I learn how to make and use royal icing. In this blog post, I'll share what I've learned so far about the ingredients, tools, and techniques needed to create beautiful royal icing cookies.
Jump to Recipe
As well as my successes and challenges along the way. Whether you're a fellow beginner or a seasoned pro, I hope you'll find something useful in my royal icing journey.
I have bought with my own money a comprehensive guide to Royal Icing, along with a comprehensive guide to Christmas Decorated cookies. This is by the wonderful The Graceful Baker and you can take a look here at all her offerings.
Grace also has a comprehensive Youtube channel with lots of great videos, you can also find her royal icing recipe there too.
Let's get started with what I know and have learned so far!
Does it matter what consistency my Royal Icing is?
Yes it does, Royal Icing consistencies are crucial!
A thicker icing is better for outlining and creating borders, while a thinner icing is better for filling in spaces and flooding.
However, too runny and the icing will run off the edge of your cookie. Too stiff and it will be really difficult to pipe with.
Grace talks through many different consistencies and different thicknesses of the flood type. After using a couple of different types as a beginner it is great to use a thick flood consistency.
It does, of course, depend on the effect you want but for the Easter Bunny cookies I have made below then the thick flood icing worked well.
Can I make up Royal Icing in advance?
Yes, as a beginner myself, I made a large batch of royal icing and got it to a medium stiff consistency. I then stored it in an airtight container overnight.
While I haven't personally experienced this, I've read that attempting to get royal icing to a looser consistency the next day using a stand mixer can actually make it become thicker due to something in the ingredients.
For this project, to add some colour to my royal icing, I took a portion of it and made it pink. I left the remaining portion white, and stored the rest in an airtight container for future use on another project.
How long can I keep my Royal Icing?
Royal icing can be stored in an airtight container in the refrigerator for up to a week.
Before using the icing, allow it to come to room temperature and give it a quick stir to ensure it is smooth and well-mixed.
Jump to Recipe
If the icing has separated or become too thick, you can add a small amount of water (use that spray bottle to add small amounts) to thin it out to the desired consistency.
If you need to store royal icing for longer than a week, you can also freeze it. (I have not tried this yet!)
To freeze royal icing, transfer it to an airtight container and freeze for up to 3 months. Thaw the icing in the refrigerator and bring it to room temperature before using, then give it a quick stir to ensure it is smooth and well-mixed.
It's important to note that royal icing can become less effective over time, especially if it has been exposed to air or moisture. If your royal icing looks or smells off, or if it has been stored for an extended period of time, it's best to make a fresh batch.
How should I store my Royal Icing?
As stated above, store your icing in an airtight container, remember exposure to air or moisture can change how effective the royal icing is. You can store it in the fridge or freezer but I am yet to do this and after reading a few experienced icers, they leave it out of the fridge also.
How much Royal Icing do I need per cookie?
The amount of royal icing needed for each cookie will vary depending on the size of the cookie, the level of detail in the design, and how thickly you plan to pipe the icing. If you're unsure how much icing to make, a general rule of thumb is to use 1-2 tablespoons of icing per cookie for a thin layer or 2-3 tablespoons for a thicker layer.
The recipe provided typically yields a large batch of around 1kg of royal icing. However, if you're a beginner or only planning to decorate a few cookies, it's best to reduce the quantities accordingly. Alternatively, you could make the full amount and freeze any leftover icing for future use.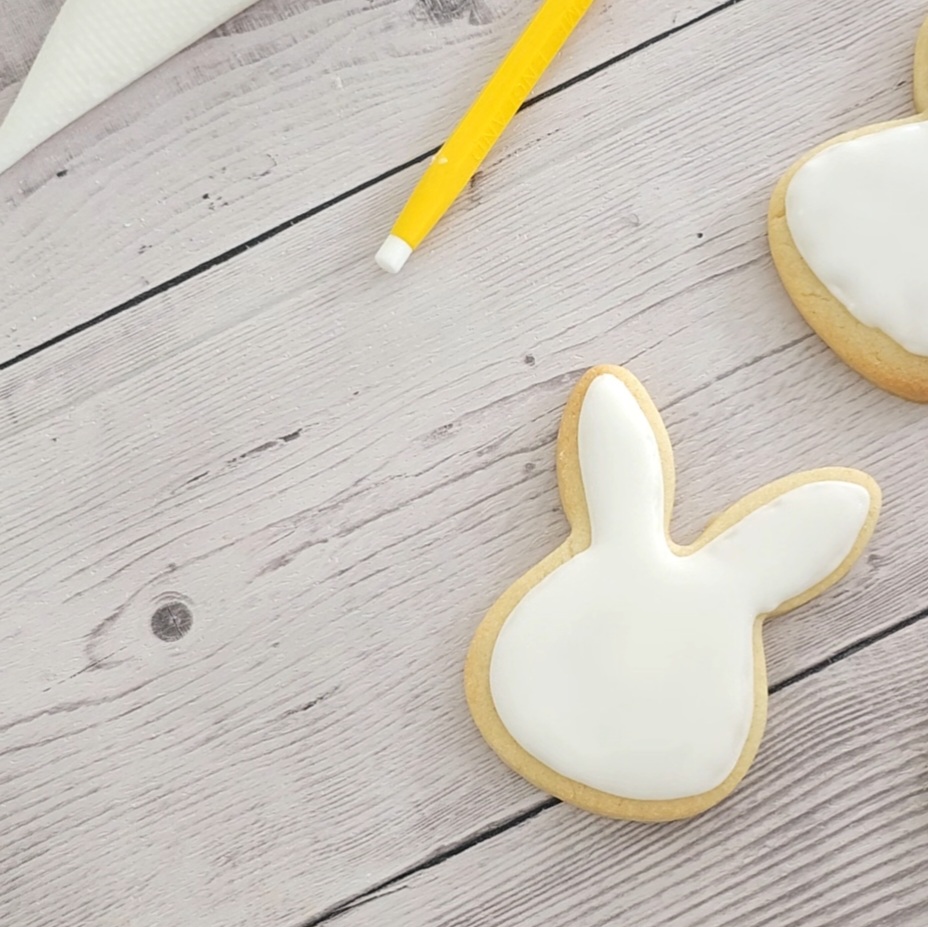 Where should I start with my Royal Icing piping?
If you're a beginner, it may be helpful to practice piping royal icing before applying it directly onto your cookies. This can save you from having to pipe and scrape off the icing on your sugar cookies if you make a mistake.
To help you practice, you can download a free practice icing sheet here. This includes straight and wavy lines, shapes, and areas to fill (flood) with icing.
Jump to Recipe
This practice sheet can help you get a feel for how much pressure to apply when squeezing the piping bag, and can help you refine your piping skills before moving on to icing your cookies.
Practicing on a separate sheet also allows you to experiment with different designs and techniques without the pressure of getting it right the first time.
What is a good cookie recipe?
This is my sugar cookie recipe and if you read the blog post it contains all the details you need to create the perfect no-spread sugar cookie. The post contains lots of hints and tips and followed to the letter should mean your cookies won't spread.
How should I colour my Royal Icing?
For this tutorial I used Colourmill oil in Raspberry for the pink. Please note though, that oils are a liquid and can change the consistency of the icing. Colour the icing before adding the water to get to the desired consistency.
Gel or paste colours do not have the same effect and can be added also to Royal Icing to achieve the colour of your choice. As always when adding colour, add little by little, you can always increase the amount of colour, its not as easy to get the colour lighter again.
Hints and Tips (Things I have learned so far with getting started with Royal Icing)
To make piping easier and more comfortable, try putting your piping bag into a glass before filling it with royal icing. Be careful not to overfill the bag – using less icing will make it easier to handle.
When cutting the tip of your piping bag, start with a small hole. Then test the icing on a plate or cookie to ensure you're happy with the consistency and flow. If needed, you can always cut a larger hole before you start decorating cookies.
Remember to practice your piping skills regularly to improve your technique and confidence.
It's important to give your royal icing enough time to dry fully once it's piped onto the cookie. Don't rush the process, as this can cause the icing to smudge or run. Be patient and allow ample time for the icing to dry before adding any additional layers or details.
What equipment do I need to make Royal Icing?
Spatula
Spray water bottle (not essential but great for adding small amounts of water when changing the consistency)
Colours- now Grace does use gel colours, I have used colourmill oils and had success with this. However, she does state that due to the acidity in the lemon juice that some colours don't work very well. Also beware that using the colourmill oils, they are a liquid so will thin the consistency.
Cookie cutters, this bunny cutter is similar to the one I have used.
Jump to Recipe
What ingredients do I need to make Royal Icing?
The below recipe is what I have used so far but I do want to try an alternative. I am aware some people don't like a strong lemon flavour.
Meringue Powder or Egg Whites- The protein in egg whites or meringue powder helps to stabilize the icing and give it structure. Both options work well, but meringue powder is a convenient alternative for those who prefer not to use raw egg whites.
Icing Sugar -This is the main ingredient and provides structure and sweetness to the recipe.
Lemon Juice- This acidic ingredients help to stabilize the egg whites and prevent the icing from breaking down or separating.
Water- this is added to the royal icing to adjust its consistency and achieve the desired thickness. A spray bottle is useful for adding small amounts of water at a time. Just a couple of squirts can make a difference. As you near the desired consistency, add one squirt at a time to avoid making the icing too runny.
How to make Easter Bunnies with Royal Icing
Start by making a batch of sugar cookies and allowing them to cool completely.
While the cookies are cooling, prepare your royal icing using the recipe below. Once you've made your stiff peak icing, you'll need to thin it down to create the thick flood consistency.
To do this, use a spray bottle to add small amounts of water until you achieve the desired consistency.
If you want to add pink coloring to your icing, you can do so at this point or after you've achieved the right consistency. Remember to refer to the tips above for colouring your icing.
Once you have your icing ready, fill a piping bag with the thick flood consistency white icing.
Using the piping bag, pipe a thin line around the edge of each cookie. To do this, place the piping bag onto the cookie and lift it up while piping around the edges.
After you've created the outline, apply more pressure to flood the rest of the cookie with the royal icing.
Use a scribe tool to smooth out any areas that need more filling or are uneven.
Set aside the cookies to allow the icing to harden before adding the pink details.
Repeat the above steps for the remaining cookies.
Once you've covered all of the cookies with white icing, you can begin adding the pink details.
Fill a second piping bag with the pink icing and cut a small hole. Test the consistency of the icing on a plate to ensure it's the right thickness.
Using the image below as a guide, pipe the Easter Bunny face onto each cookie
Let the cookies dry completely before serving, and enjoy your delicious and beautifully decorated Royal Iced Easter Bunny faces!
Royal Icing
This easy-to-follow recipe for Royal Icing yields a stiff peak icing that can be thinned down to create the perfect consistency for flooding and decorating your baked goods. Made with simple ingredients like meringue powder, powdered sugar, and lemon juice, this recipe is perfect for beginners and experienced bakers alike.
Ingredients
907

g

icing sugar/ powdered sugar (I never sift, but you may want to)

45

g

meringue powder

1/2

cup

lemon juice

2/4

tbsp

lemon juice
Instructions
Using a paddle attachment, mix together the meringue powder with the cup of lemon juice and roughly 2 tbsp of the lemon juice

Beat on a medium speed for around 1-2 minutes until a foam forms

Scrape the sides down at least once in this time

Adding in the icing sugar, mix on a low until fully incorporated. Scrape down the sides again if necessary

Mix on a medium speed for around 2-4 minutes unitl a light fluffy forms at either stiff or medium peak. (you may need to add some or all of the additional 2 TBSP lemon juice)

Be careful not to over mix, as that can cause air bubbles or ruin the icing (it will crumble when dry). Watch the mixer carefully in this last stage as the mixing time can vary greatly.
Notes
This is a very brief description of the Royal Icing recipe that I used.
This recipe makes about 1 kilo of icing. A standard 3.5″ cookie typically requires 30-35g icing/cookie. Of course, this depends on the design! I like to budget 40g icing/cookie just to be safe. So this recipe makes enough icing for 24 (2 dozen) cookies