Homemade Mother's Day Cake Pops: Ideas and Inspiration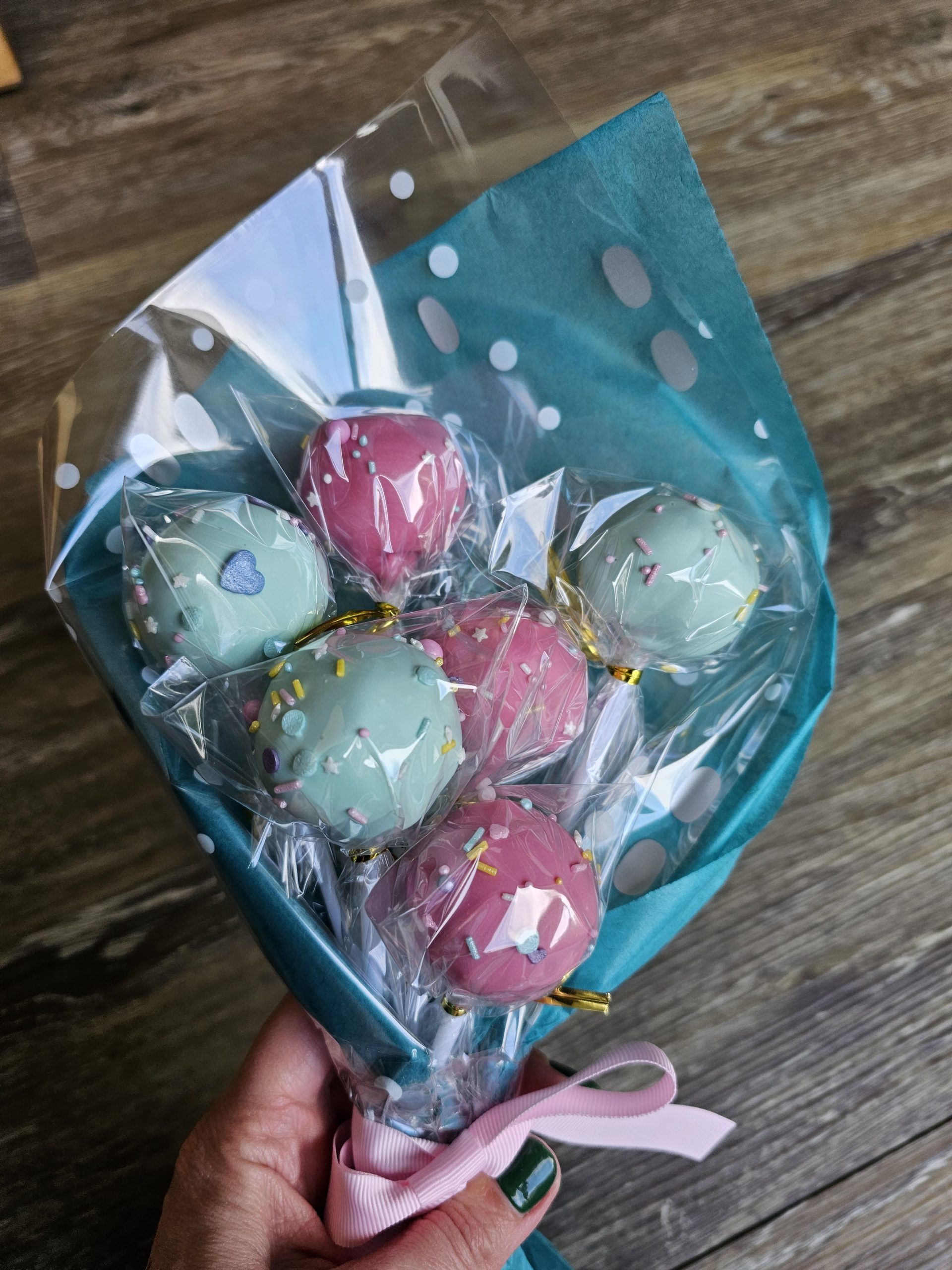 Mother's Day is a lovely day to spoil your Mum and show her how much you appreciate her. Baking a cake is always a special touch as it's a handmade, homemade item. You may not see your mom in person, so making cake pops allows you to send them to her. It's a different format, but still homemade cake.
In this post, I am going to show one idea for presenting Mother's Day cake pops. I will also share some other ideas.
You could present cake pops as part of a treat box that includes other goodies, like cupcakes, cookies, sweets, and chocolate.
Bunch them up and top with sugar flowers for a hand-held bouquet of cake pops.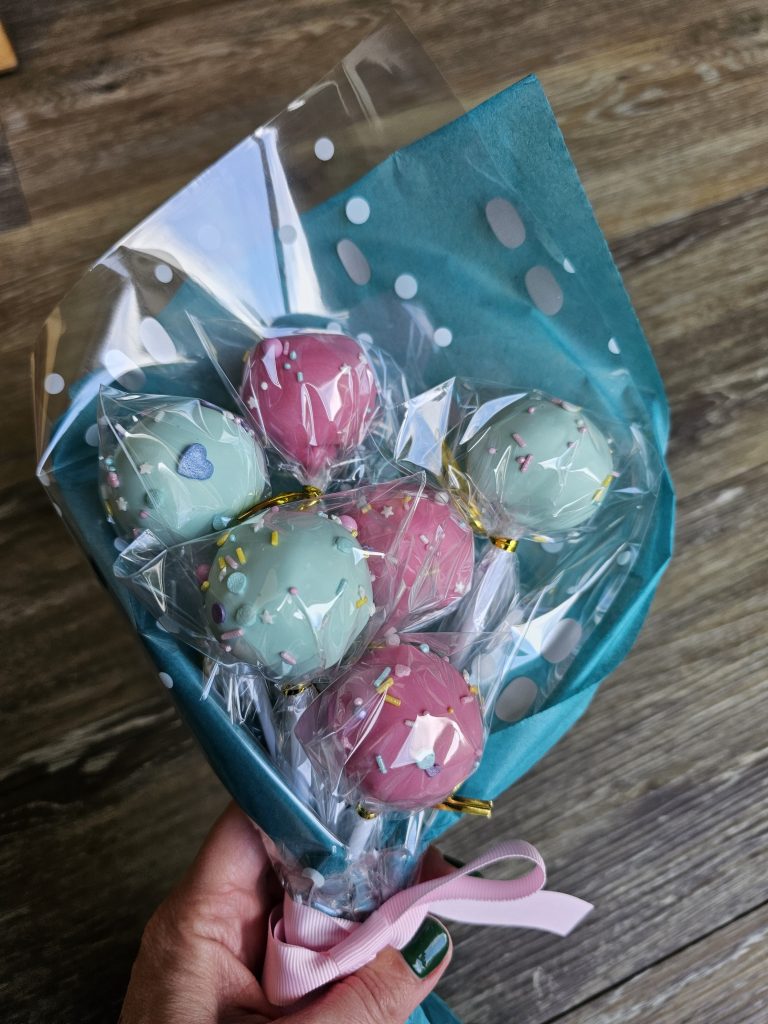 What ingredients do I need to make Mother's day cake pops?
This will depend on what flavour cake pops you want to make.
The filling can be all sorts of cake, from vanilla cake sponge, lemon, chocolate, or even red velvet.
Not keen on making red velvet cake? You can use a box mix for red velvet cake pops if you want something a little different.
Chocolate cake is a nice one as it can be a quite fudgy texture.
My favourite flavour is vanilla cake pops, you can make these without buttercream, making sure you add vanilla extract into your cake mix. (see this post on how to make cakepops without buttercream) Or you can add vanilla buttercream to the mix to bind them for the extra vanilla flavour.
To bind the cake crumbs, you'll need to choose a mixing agent based on your preferred flavour.
What can I use to make cake pops if I don't have frosting?
Cake pops traditionally use homemade or shop-bought cake crumbs, mixed with buttercream or cream cheese frosting.
However, you can bind the cake crumbs with something else, or even without buttercream and just use the heat from the freshly baked cake, see this post. Or some other options are melted chocolate, Nutella, Biscoff, or jam are good binding ingredients to use.
What is the best thing to coat cake pops in?
Cake pops can be coated in a variety of ingredients, this will depend on personal preference and the desired flavor and texture. It might also depend on what you can get your hands on.
Here are some popular options:
Candy Melts
Candy coating is a popular choice for coating cake pops, as they come in a wide range of colors and are easy to work with. They are a lot thicker than chocolate when dipping and will require less fiddling with the cake pops to wait for excess chocolate to come off. The thickness can mean you will see your cake ball being 'pulled' off the stick. Tip: Adding a little bit of oil can thin it down. Generally, you will need to buy these online or in a specialist cake shop. See the information at the bottom of the post about where I purchase a lot of cake decorating stuff.
Chocolate
Chocolate is another common choice for coating cake pops. You can use any type of chocolate, from white chocolate to dark chocolate. You will need to temper the chocolate to avoid unsightly streaks (see my post here on how to temper chocolate easily). Using white chocolate will mean you can add colour to it in the form of oil colours.
Royal Icing
Royal icing is a popular choice for decorating cakes and cookies, but it can also be used to coat cake pops. I have never tried this method of coating cake pops, it will set hard and is less likely to crack once set. (Cracks normally appear due to varying temperatures between cake balls straight from the fridge and warm chocolate)
Icing Sugar
Icing sugar can be used to dust a light and airy coating on cake pops. This is a good choice if you want to add a touch of sweetness without overwhelming the flavor of the cake. This will mean if you want to add decorations to the cake pop you will need to use something else to stick the decorations to. The previous three options can have sprinkles and decorations added when the coating is still wet.
So, the best thing to coat cake pops in depends on your personal preference and potentially what you can purchase. For this post, I will be using chocolate and colouring it using colour mill oils. (If you are going to colour candy melts or chocolate then you will need to use oil-based colours like these colourmill ones and not gel pastes)
How do you make cake pops with leftover cake?
I like to specifically make cupcakes using this vanilla cupcake recipe when making cake pops. (Normally one cupcake gives you around 2 cakepops).The reason for this is my cake mix and cupcake mix are very different and I have found that oil/ grease seeps out of the cake pops when I have used my cake mix.
My cake recipe contains a lot more butter than my cupcake recipe. When you cut off the crust off a cake you do have leftovers. However, this is not the end of the world, and using leftover cake can be used to make cake pops. Much better to create some pretty little treats, which can be gifted to someone.
Do I need specialist equipment to make cake pops?
I don't believe that you need specialist equipment, but you might like the idea of baking cake pops in a cake pop maker. This will mean the cake pops are already formed and you won't need to shape and bind cake crumbs. I have no experience using a cake pop maker though so can't help or advise with this.
The equipment that you will need is
Cake tin or cupcake tin to bake your cake
Mixing bowl
Spatula
Baking tray -this is for placing the cake pops on once shaped so not essential, this could be a plate
Microwave or double boiler for melting chocolate or candy melts
A glass or a cake pop stand so the cake pops can be set once they are coated.
How do you make Mother's day cake pops?
Once you have chosen your cake flavour and binding ingredient we can move onto making the cake pops.
The first step, once your cake has cooled down is to make cake crumbs. You can make cake crumbs using a stand mixer or whisk. I do prefer to use a blender like these nutribullet type or larger blender.
Mix your cake crumbs with the binding ingredient. For the purpose of this post, I have used Vanilla cake crumbs and a small amount of Vanilla buttercream/ frosting. As for many things in baking, add a small amount and add as necessary, once added you can't remove the buttercream.
Shape the cake crumb mix into cake balls and place on a lined baking sheet (baking paper placed on top of a baking tray).
Once you have shaped all the balls, place them in the fridge to set. If you have made more balls than you require, at this stage you can freeze some for a later project.
After they have been chilled you can add the sticks to the cake balls.
Melt a small amount of chocolate and dip the stick into the chocolate. Once you have some chocolate on the stick then place the stick into the cake pop and allow them to set.
I suggest if you are dipping your cake pop in chocolate that you allow the cake pop to come close to room temperature before dipping. If there is a big difference between the temperature of the cake ball and the chocolate then you risk getting cracks in the chocolate.
When you are ready to dip the cake pops, temper your chocolate or melt candy melts, either in a microwave or double boiler. (See here for tempering chocolate easily) If you are colouring add in the colour now. For your Mother's day cake pops I suggest using some pretty pastel colours.
Dip your cake pops into the chocolate and twirl to get rid of excess chocolate.
Put your cake pop into your cake pop stand or glass to set. Once it is in its stand decorate it with sprinkles while the coating is still wait.
You can leave the cake pops at this point and arrange into a handheld bouquet for your mother.
See this quick video on how I make cakepops with buttercream
Cake pop ideas for Mother's Day
You have made some cake pops for Mother's Day now and here are some ideas on how to present them.
Hand lettered cake pops with a message
You could leave the cake pops blank without sprinkles and using an edible marker you could write a message on them. Something like 'I love you' or Mum' would be lovely.
Personalised for your Mother
Colour- Using your mums favourite colour scheme,
Flavour- use your mums favourite flavour cake, making them super personalised. You can pop
Bouquets
Arrange the cake pops into a small bouquet. Stuff a small gift bag with tissue paper and arrange the cake pops so they are poking out of the top.
Another way to arrange the cake pops would be to place them into an empty jam jar and fill the space with your mums favourite sweets.
Cake Pop Bouqet
I have laid them on top of cellophane with tissue paper. Tied them at the bottom with some ribbon. You can add a bow and a tag with a personalised message.
If you want to send this to your Mother you should be able to put this in a box. Put plenty of padding around the cake pops and this will be ready to post. See the video on how I arranged them.
Making homemade cake pops with buttercream/ frosting (or any other flavour) are a delicious and creative way to show your love on Mother's Day. Following the above instructions you can make a thoughtful and personalized gift that your Mum will love. Why not give it a try and see how much she appreciates your homemade treats?
Where to buy more specialised cake equipment
I buy a lot of my cake decorating bits and bobs from Cake Stuff (including Colourmill oils like this pink one which I love) I also go through a company called Topcashback which earns me cashback rewards on not just this purchase but so many more. Use this link to sign up.
As always Happy Baking and hope you enjoyed this post!