Ahoy, Matey! How to Make Delicious Pirate Sugar Cookies
Ahoy mateys! Are you planning a pirate-themed party and looking for some tasty treats to add to your table? Look no further than these super simple pirate sugar cookies! Perfect for both kids and adults, these adorable cookies are easy to make and sure to be a hit with your guests. From the colorful fondant hats to the edible marker eye patches, these cookies are packed with pirate-y details that will transport your guests to the high seas of adventure. In this post, we'll show you how to make pirate cookies from scratch.
So, get your baking supplies ready, put on your pirate hat, and let's get started on creating some delicious and fun cookies that would make even Blackbeard himself jealous!
Jump to Recipe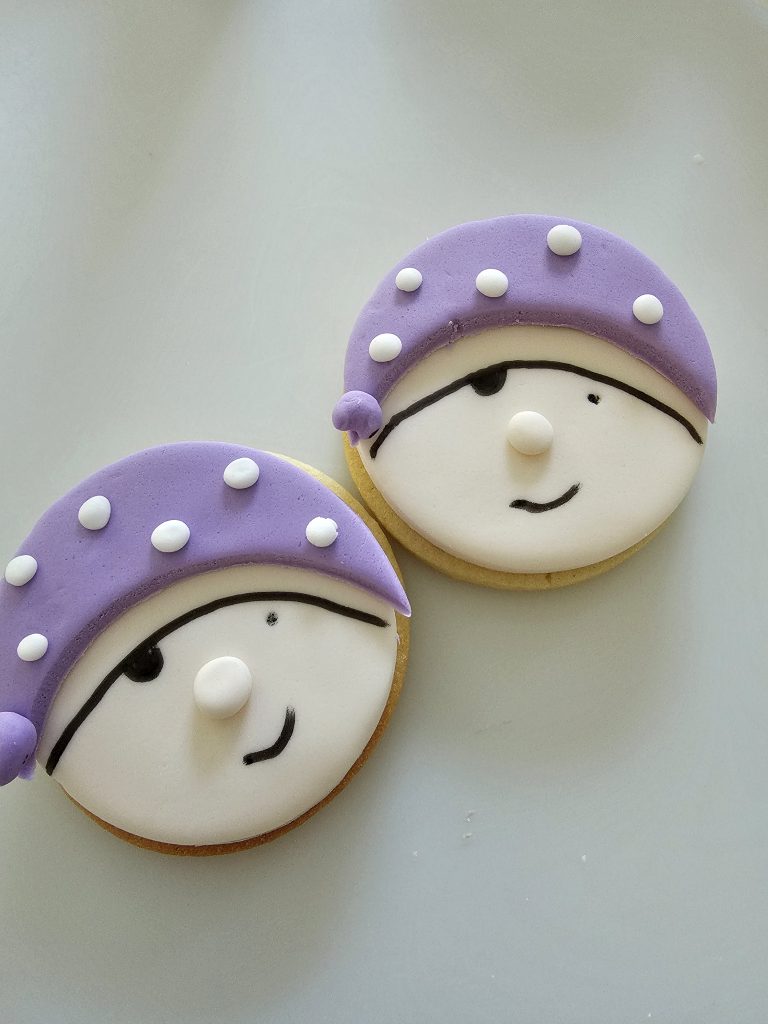 Why this recipe is perfect for a pirate-themed party?
These are easy to make in large quantities: A pirate-themed party is likely to have a lot of guests, so the recipe should be easy to make in large quantities to accommodate everyone.
You can make these in advance: This recipe is something that can be prepared ahead of time, so that the host/hostess (you) can spend more time enjoying the party with guests (if you want to!) and less time in the kitchen.
They are fun and interactive: You could even save decorating the cookies till the party day and get the children involved in making their own as a party activity.
Ultimately, if you are using this tutorial to make your own pirate sugar cookies, then they need to be easy and fun to make and you will see this in the step by step instructions below.
Jump to Recipe
What do I need to make pirate sugar cookies?
Ingredients for the recipe- see below
Plain flour
Sugar
Eggs
Vanilla Extract
Equipment
Sugar paste in white, peach (or desired skin colour) and hat colour.You can buy white and colour it yourself or you can but pre coloured icing. (see below for where I purchase the best (IMO) sugar paste).
Gel colours if using – for these I recommend orange and whatever colour you wish for the hat.
Something to stick fondant to the cookies. (Jam/ Royal Icing).
Black Edible marker.
Stand Mixer, I would highly recommend that you have a stand mixer but a hand whisk will do the trick, it's the first part of the recipe where the butter is still quite firm that is the most difficult part.
Greaseproof paper- I like using Tesco baking paper. Look out for a comparison post of different types soon.
Rolling pin – I have a large nonstick one, similar to this one.
Spacers – These are great, you place them on either side of your dough to ensure the dough is rolled out to an even consistency.
Rolling pin with spacers – If you don't have either of the above then this is a great purchase as it has the two in one!
Cookie Cutters- these come in all shapes and sizes, as a starting set this is great for round cookies.
Greaseproof paper
Jump to the recipe below for all the details about making the sugar cookies.
Is this recipe a non spread cookie recipe?
Yes if you follow the details in the recipe, the sugar cookies will hold their shape in the oven. For more hints and tips on how to make the sugar cookies click here
Once you have baked the sugar cookies, leave them on the baking sheet until you are ready to decorate, if you are decorating the same day. Otherwise, pop them in an airtight container until you are ready to decorate them. You can also make the cookies in advance and freeze them until you are ready to use them.
Jump to Recipe
How do I colour fondant for the Pirate Cookies?
Colouring fondant is a great way to create pirate-themed decorations for your cookies.
To colour fondant, add food coloring gel or paste in the desired colour to your white fondant. Start with a small amount of gel colouring and add more as needed. Like I say for many things in this blog, start with a small amount and you can add as desired. It is always easy to add but not to take away the colour. Knead the fondant until the colour is evenly distributed.
To create a peachy skin tone for your pirate faces, add a small amount of orange food coloring to white fondant.
For the pirate hats, you can use different colors such as purple, black, or red, depending on your preference. You could have all the pirates with the same colour or have multi coloured hats, depending on your Pirate Theme.
It's best to use gel or paste food coloring, as liquid food coloring can make the fondant too sticky. If you are intending on using a black fondant or even a deep red colour then I suggest buying pre-coloured fondant. (see below for my recommendation on where to buy cake supplies from)
Can you make and decorate the cookies in advance, and if so, how should you store them?
Yes, once you have baked the sugar cookies, leave them on the baking sheet and leave them to cool to room temperature. They will then be ready to decorate if you are decorating the same day.
Otherwise, pop them in an airtight container until you are ready to decorate them. You can also make the cookies in advance and freeze them until you are ready to use them. Another great tip, especially if you are using these in your party bags, once you have decorated the cookies, you can pop the cookies in cellophane bags until the day of the party.
Making Pirate Sugar Cookies
Now for the fun part my mateys!
To make these easy Pirate cookies, start by preparing all the ingredients and equipment.
To create a peachy skin tone, add a small amount of orange gel to the white icing. If you prefer a different skin tone, add a different colored gel. See above about colouring fondant.
To make the hats, color some white icing in your desired color. For example, you can use purple gel for a purple hat.
After coloring the icing, it's time to roll it out. Avoid using spacers that you used for your cookies as the icing will be too thick. Instead, roll it out to your desired thickness.
Cut out circles that are the same size as your cookie for the base of the face. Spread a small amount of jam or royal icing onto your sugar cookie and place the fondant on top.
Next, cut out the hats by rolling out the icing in your desired color and cutting out a circle shape. Use the edge of the cutter to cut a piece out to create the hat shape. Use a small amount of jam or icing sugar to stick the hat onto the face. Make a little piece to emulate the hat tie using a small piece of icing the same color as the hat.
Roll out small pieces of white icing for decorating the hat. Roll a small ball using the skin-colored icing for the nose. Draw the eye, mouth, and eye patch onto the fondant using an edible marker, as the above picture.
And there you have it – super simple Pirate sugar cookies! See the video below for a quick tutorial.
No Spread Sugar Cookies: The perfect base for decorating
Get the perfect sugar cookie every time with this non-spreading recipe. Soft, tender and easy to decorate. Give it a try!
Ingredients
220

g

unsalted butter

200

g

caster sugar

1

large

egg

1

tsp

vanilla extract

425

g

plain flour
Instructions
Preheat the oven to 180c (fan)/200c/ Gas Mark 6

Pop the butter and caster sugar into a bowl and cream together, this will take longer than when butter is softened beforehand but it will be worth it.

Add in the egg and vanilla extract and beat well to combine.

Next, add the flour, I do this in sections, adding a bit at a time.

You will find that the beater attachment (if using a stand mixer) will bring the dough together as one. When this happens stop mixing, your dough is ready.

If you are using a hand mixer you will want to hand knead the dough.

On a clean surface, lightly dust with plain flour and hand knead your dough a little. Next, split your dough into 3 (refer to the tips in the post as to why we do this)

Using your rolling pin and spacers roll out your dough to around ¼ inch thick

Avoid the dough sticking by adding some flour to the surface, and after you have rolled out once lift and rotate the dough.

Line a baking tray with baking or greaseproof paper.

Cut out your shapes and transfer them to the tray.

This will give you around 30 medium-sized cookies.

You don't have to use all the dough in one go, you can store this in the fridge but I recommend freezing instead. Wrap in cling film and freeze.

I cut out the number of cookies I want and bake them all in one go.

These take around 8-10 minutes in the oven, I suggest putting the timer on for 8 minutes and checking at this point. They are ready when they are a golden brown colour around the edges.

Leave these for 5 minutes on the tray to cool slightly, then transfer onto a wire rack to cool completely before either decorating or popping in an air tight container for another day.
A Pirate themed party is a great way to add some adventure and excitement to your celebration. With creative decorations, fun activities, and delicious treats, you can transport your guests to a world of treasure, ships, and sea creatures. Whether you're hosting a kid's birthday party, a Halloween gathering, or just a fun get-together with friends, there are plenty of ways to incorporate the Pirate theme and make your event memorable. These Pirate Face cookies are just one way of making your Pirate theme come alive.
Where to buy more specialised cake equipment
I buy a lot of my cake decorating bits and bobs from Cake Stuff (including Colourmill oils like this pink one which I love) I also go through a company called Topcashback which earns me cashback rewards on not just this purchase but so many more. Use this link to sign up.
As always Happy Baking and hope you enjoyed this tutorial!