Cakes or Cupcakes: Which One is Perfect for Your Occasion?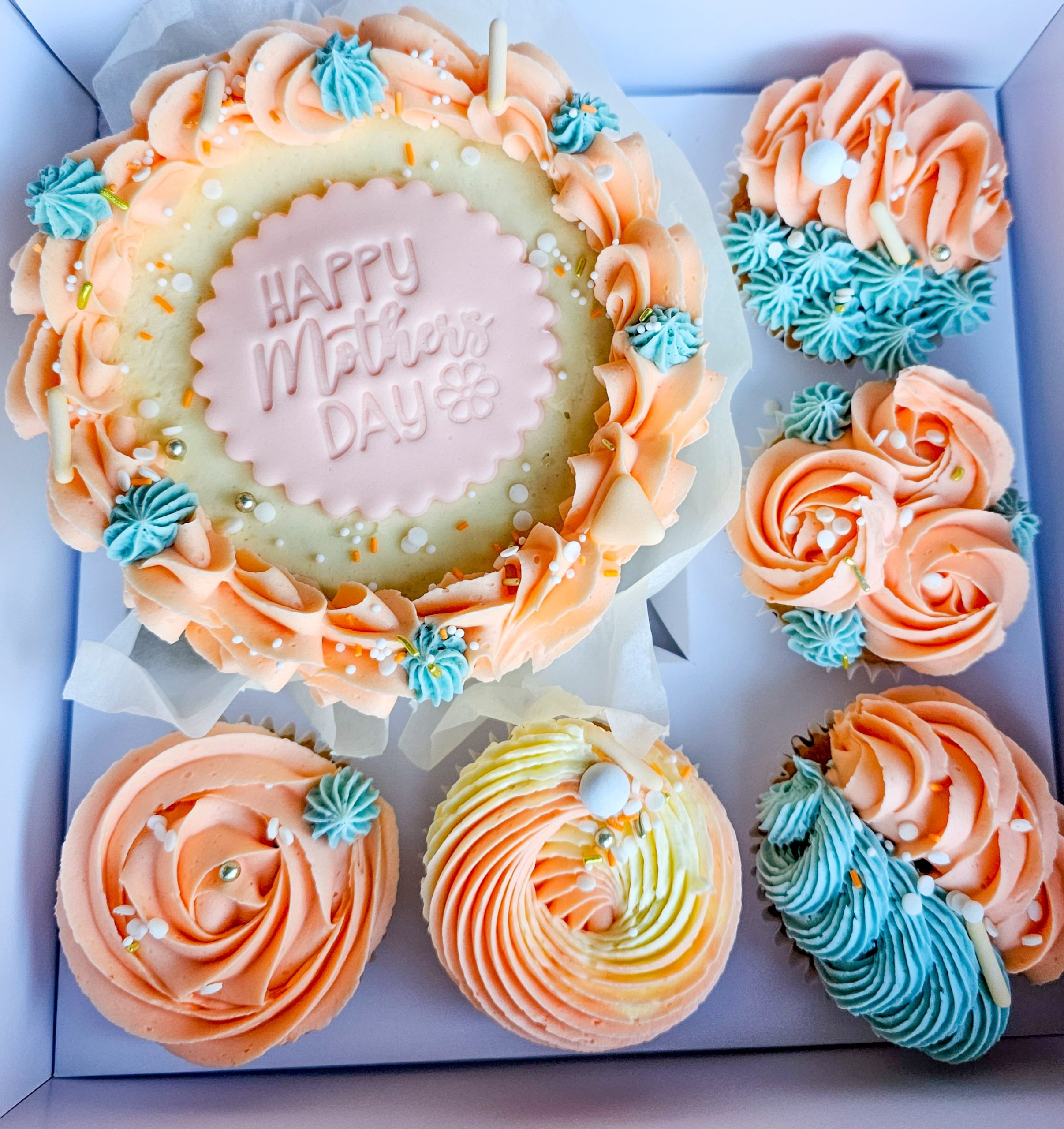 What is the difference between cake and cupcakes
Cakes or cupcakes are baked goods made from a mixture of flour, sugar, eggs, and other ingredients such as milk, butter, and baking powder. Cakes can come in various shapes, sizes, and flavors, and can be decorated with frosting, icing, and other toppings to make them more appealing.
Some common examples of cakes include birthday cakes, wedding cakes, and sponge cakes.
Cupcakes, on the other hand, are smaller cakes that are baked in a cup-shaped paper or foil liner. Like cakes, cupcakes can be made in various flavors and can be decorated with frosting, icing, and toppings.
They are often seen as a more convenient and portable alternative to cakes, making them a popular choice for parties, events, and other gatherings. Both cakes and cupcakes are enjoyed by people of all ages and are a staple of many celebrations and special occasions.
What are the similarities between cakes and cupcakes?
Both are sweet baked goods
Cakes and cupcakes are both delicious baked goods that satisfy our sweet cravings. They are usually made with similar ingredients such as flour, sugar, eggs, and butter. Most of the cakes and cupcakes I offer in the same flavours. The only cake I don't offer in a smaller cupcake format is a fruit cake.
Both can be decorated and personalized
Cakes and cupcakes can be decorated in different ways to suit different occasions or personal preferences. Both cakes or cupcakes could be decorated with fondant or buttercream frosting. You can even personalise both with names and numbers etc.
Both can be enjoyed for special occasions or just as a treat
Whether you want to celebrate a special occasion or just indulge in a sweet treat, cakes and cupcakes are versatile and always a crowd-pleaser.
Overall, cakes and cupcakes share many similarities as they are both baked goods that can be decorated and enjoyed for various occasions. However, there are also some notable differences between the two, such as their size and preparation methods.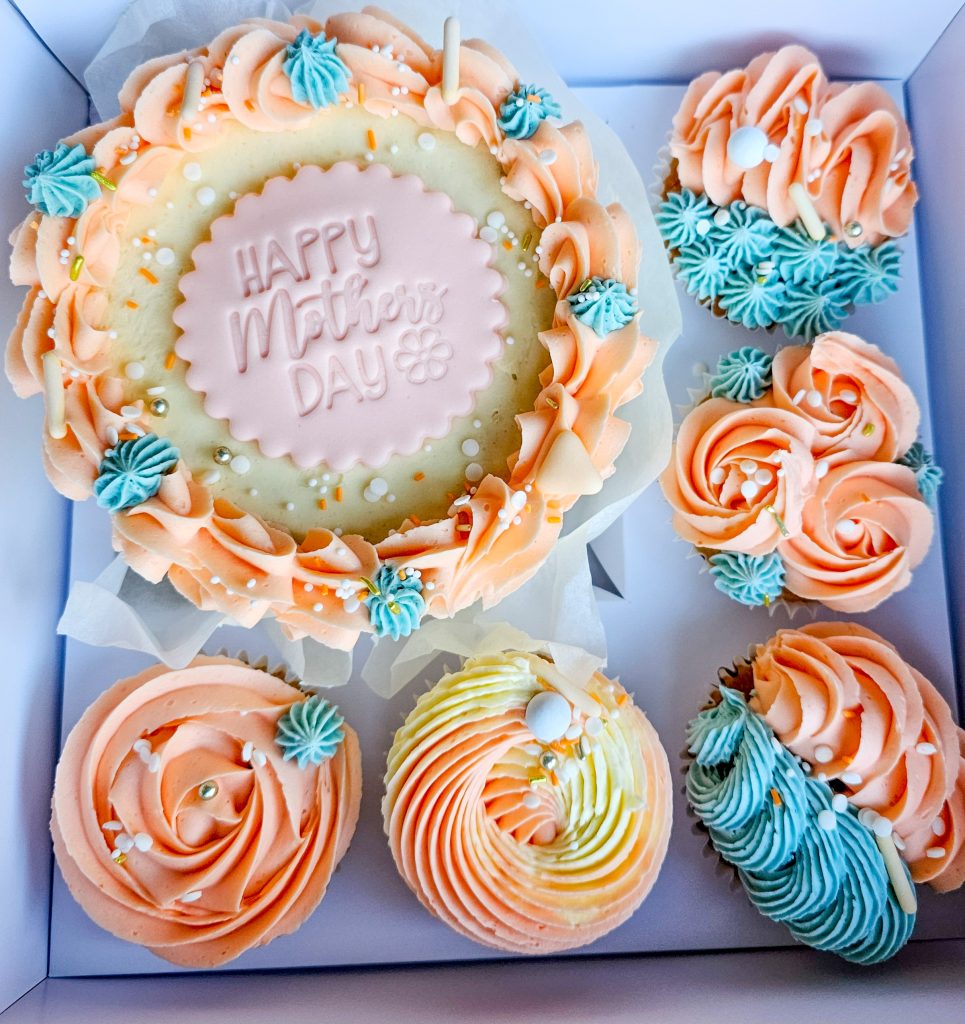 What are the differences between cakes and cupcakes?
Serving sizes and portions
Cakes are much larger and will require cutting to be served. Whether this is wedges or slices. Cupcakes can be enjoyed on their own and handed out individually.
Preparation and bake time
Cakes
Cakes typically take longer to bake and prepare, including layer cakes. Mini cupcakes are quick and easy to make as they don't require much time to prepare. Cake tins need to be lined. I don't line my tins with greaseproof paper but just use a layer of butter and then a sprinkle of flour.
The batter for a cake needs to be mixed and poured into a cake pan or several cake pans, which may take a few minutes. Once in the oven, cakes usually take anywhere from 30 minutes to an hour or more to bake depending on their size and recipe.
Due to the cakes being that much bigger than cupcakes they do take longer to cool. This means that it will be longer before you can start decorating them.
Most cakes will be a layer cake, so once the cakes are cooled down they will need layering and filling. Generally followed by a crumb coat and then finally being covered in the desired topping.
Once you have covered the cake with fondant or buttercream frosting then it will need decorations on top.
Cupcakes
Cupcakes are quick and easy to make and require less time to prepare and bake. The mix I use for my Vanilla cupcakes is very quick. Cupcake batter is mixed and poured into cupcake liners, which are then placed in a cupcake pan.
Cupcakes bake much faster than cakes, usually taking only 15-20 minutes. Once baked, cupcakes cool down reasonably quickly. This means you can get on with frosting or other toppings. They are then ready to serve straight away.
In summary, cakes take longer to prepare and bake due to their size and the need for multiple layers, while cupcakes are a quick and easy option due to their smaller size and simpler preparation process.
Jump to Recipe
Decorating Options for cakes or cupcakes
Cakes offer more surface area for decorating
Cakes are typically larger than cupcakes which means they offer a bigger surface area for decorating. Layer cakes can be stacked on top of each other, or separated using specific equipment. Making them the perfect bake for wedding cakes.
You can get really creative with the space. Piped icing, sugar flowers, fake flowers, toppers, and figures the list of options goes on and on. You can even carve cakes into specific shapes to create a more novelty piece.
The options for fillings are endless and can be combined to create your own unique flavour.
Cupcakes offer the option for individual decoration for each cupcake
Cupcakes are smaller than cakes, but they offer the advantage of individual portions and decorations for each cupcake. This makes them ideal for events where guests have varying tastes or dietary restrictions, although this would mean more than one batch of cupcakes.
Each cupcake can be decorated with different frosting flavours, colours, and even different personalised designs. Making them a fun and customizable option.
Individual cupcakes can also be decorated with unique toppings like sprinkles, candies, or fruit, adding to their appeal. So yes there are endless options for cakes but the same can be said for cupcakes.
How long does it take to decorate cakes or cupcakes?
This will really depend on what decorations you are going for on each option. If you are going for a simple buttercream swirl on the cupcakes and some sprinkles. The whole process from dry ingredients to finished product can be relatively quick, making the perfect cupcake a great option for those looking for a fast and easy treat.
You will be able to bake and decorate cupcakes on the same day. If you are wanting to have different coloured buttercream tops or personalised fondant decorations then it will take longer.
Cakes are similar as above as it will depend on what finish you are going for with your layered cake. However, even if you are going for a simple design then it can take some time to get that blank canvas.
Layering, crumb coating and the final coat, despite being done in stages, can take some time and really would be down over a few days.
How can I transport a cake or cupcakes safely?
This alone might be the reason why you would choose one option over the other. Cupcakes sit nicely in cupcake boxes or carriers. Making them a very transportable option.
Cakes, especially stacked or more decorated cakes can prove more challenging to transport. If you are faced with many tiers then where possible I suggest stacking the cakes at the final destination.
I also highly recommend using a non-slip mat underneath the cake for the journey. Some other tips for travelling with cakes include placing them either in the boot or in the footwell of the car. Car seats or laps are not flat so I do not recommend these as a place to place your cake. This is great advice even for a small cake.
Can I use a cake recipe for cupcakes?
In short yes, you can use the same recipe for both cake or cupcakes. However, I do use a different cupcake batter to cake batter. I also have different cake recipes for different cake flavours like red velvet or carrot cake. These different cake recipes I would definitely use these for cupcakes. For example the carrot cake recipe I use to make carrot cake cupcakes.
If you have a good cake or cupcake recipe then I would suggest trying to cross-purpose it. See below for a good cake recipe for a vanilla sponge cake. This recipe can be used for cupcakes also but do see this post for my vanilla cupcake recipe.
Jump to Recipe
How far in advance can I make a cake or cupcakes before an event?
The cupcake recipes I use are best baked the day of the occasion or the day before as they don't keep as fresh. For cakes I used to bake a number of days in advance, my timeline would be similar to this-
Tues -Bake cake
Wed- Level and crumb coat
Thur- Final coat of fondant/ icing
Fri- Decorate
Sat – Event
Days 2 and 3 can be combined, bt separating these out was easier in my busier weeks.
Once your cake is sealed with the crumb coat and then icing it can last upto a couple of weeks depending on the weather conditions and how it is stored.
Cakes or cupcakes for a birthday party?
The answer to this will depend entirely on the type of birthday party, is it an intimate affair or do you want a big masterpiece? If you are having a themed party then a cake which can be carved or shaped to be a novelty piece might be better.
For a family meal at home then cupcakes might be more suitable. I love making cupcakes but I also love to follow cake trends and give the latest phase a go for birthdays in this house! The giant or jumbo cupcakes were a great hit some years ago and had some great fun making those.
When choosing between cakes and cupcakes, there are various factors to consider. For larger events or celebrations where a dessert is needed for many guests, a cake might be a better option.
Of course, cakes offer larger serving portions and can be decorated in elaborate designs to make a statement. Cupcakes are a great choice for smaller gatherings, where guests can enjoy individual portions. These can be more personalised for each person.
In addition, cupcakes may be a better choice if you're looking for a dessert that's easy to transport or serve, as they can be stacked and arranged on a platter. Cakes, on the other hand, maybe more challenging to transport and require a level surface to prevent damage. Cakes also have a longer baking time and decorating time so this is something to take into account.
Vanilla Cake Sponge Recipe
Learn how to make a delicious and adorable vanilla sponge cake. Our step-by-step guide makes it easy to create a perfect vanilla sponge cake everytime.
Ingredients
300

g

flora buttery/margarine (take out of the fridge for around an hour before using)

300

g

caster sugar

1

tsp

vanilla extract

6

large

eggs

300

g

self raising flour
Instructions
Preheat your oven 160 for fan oven, 180 non fan oven, gas mark 4

Line 2 6" cake tins. I like to grease my tin with butter and sprinkle with flour, you can use greaseproof paper.

Put your butter and sugar in a bowl and cream well, this should turn lighter in colour

Gradually add the eggs and the vanilla extract into the mix, if the mix curdles, then add a little flour but this isn't necessary

Once you have added all the eggs then mix in the flour by folding it into the mix

Pour the cake mix into the tins, for an even bake split the batter into the tins by using a weighing scale to ensure there are equal amounts in each tin.

Make a dip in the centre of the mix so the cake doesn't bake too humped

Bake this for 45 mins. A skewer should come out clear once the cake is fully baked

Leave the cake to cool for around 10 mins before popping out of the tin onto a cooling rack

Leave the cake to cool, wrap in cling film until you are ready to level and fill.
Notes
This recipe will produce two very deep cakes which can then be split to create a deep 4 layer cake.
Where to buy more specialised cake equipment
I buy a lot of my cake decorating bits and bobs from Cake Stuff (including Colourmill oils like this pink one which I love) I also go through a company called Topcashback which earns me cashback rewards on not just this purchase but so many more. Use this link to sign up.
As always Happy Baking and hope you enjoyed this tutorial!