How to Make Delicious Cake Pops Without Buttercream Frosting
What are cake pops?
Cake pops are bite-sized desserts traditionally made by mixing home made cake crumbs with buttercream, cream cheese frosting or even chocolate(I tend to use buttercream). The cake mix is then shaped into balls, and are coated by dipping them in melted chocolate or candy coating. They are typically served on a stick, similar to a lollipop. This makes them a fun and convenient treat for parties and special occasions.
Cake pops were popularized by baker and author Bakerella back in 2008, and have since become avery popular in many countries around the world. They can be made in a wide variety of flavours and decorated in so many different ways, making them a versatile and customizable dessert option or party treat.
Why make them without buttercream?
There are a few reasons why you might want to make cake pops without buttercream or vanilla frosting, here are a few.
Sweetness- Some people don't like the sweetness of cake pops, given they usually have cake, buttercream, and chocolate or candy coating making them very sweet. So removing the buttercream means they are less sweet.
Dietary requirements – This could be another reason, people have various allergies that can be matched in the cake and/ or the coating but buttercream could be a stumbling block. By skipping the buttercream, you can make a cake pop that is safe for more people to eat.
Convenience- making cake pops can by quite timely and adding in the extra faff of making buttercream can ease the time it takes to make. Especially if you follow the instructions below, you will see how much quicker this is.
Can you freeze cake pops?
Yes absolutely, you can freeze cake pops! This is a great way to make them in advance and save time when preparing for a party or event. Especially if there are a lot of cake pops to be made. I generally freeze cake pops after they have been shaped and before they have been dipped in chocolate or candy.
When freezing cake pops make sure you follow these instructions
Once you have made the cake pop mix, shape them into the desired shape.
Place the cake pops on a baking sheet lined with baking paper, making sure they are not touching each other.
Place the baking sheet in the freezer and freeze the cake pops for about an hour, or until they are solid.
Once the cake pops are frozen, you can transfer them to an airtight container or freezer bag. Be sure to label the container with the date and type of cake pops. Putting them into a different bag or container will mean they won't develop ice crystals on the outside.
To thaw frozen cake pops, simply remove them from the freezer and allow them to come to room temperature before decorating. Once they are thawed you can then dip them into chocolate or candy and decorate them. Frozen cake pops will typically last for up to two months in the freezer.
Why do my cake pops crack?
This is generally down to a big difference in the temperature of the cake ball and the coating, so one being very cold and the other quite hot. To avoid this make sure that you are not dipping the cake pops straight out of the fridge and allow them to come to closer to room temperature.
My cake pops fall off the stick, why?
When I make my cake pops, I dip the stick into chocolate and then put it into the cake ball and leave this to set in the fridge. This should help your cake pop stay on the stick when you dip the full cake pop ball later on
Why do my cake pops release oil after I have made them?
I have experienced this in the past and this will be down to the cake mix and depend on what type of sponge you use for the cake crumbs.
I use my vanilla cupcake recipe when making cake pops as it is less greasy so this takes away some of the grease/ oil in the cake mix.
Making the cake pops without buttercream will also take away some of the grease/ oil so should eliminate this.
How can I make cake pops in different flavour?
The obvious way to change the flavour would be to change the cake flavour. Using chocolate cake or red velvet cake for example.
You can also change the flavour of the buttercream. However, as we are making cake pops without buttercream in this tutorial then you wouldn't be able to do it that way.
You can also add things like biscoff/ nutella/ chocolate that would make the cake pop a different flavour.
What do I need to make cake pops?
Ingredients
Vanilla sponge cake- or cake flavour of your choice- see here for the recipe I use
Chocolate or candy melts to coat- I like to use Belcolade chocolate. You can buy this in bulk from Henley Bridge, you can get £5 off using this link
Sprinkles to decorate
Equipment
A blender is great for creating cake crumbs but you don't need one following this method. However, if you don't have a stand mixer it can be substituted for a blender, a nutribullet type mixer would do the trick. Something like this blender is great too.
Large Bowl
Spatula
Cupcake Baking Tin if you are making cupcakes for the mix, otherwise a cake tin for your cake.
Baking tray
Lollipop Sticks (Plastic or Paper)
Cake pop stand/ glass/ polystyrene or styrofoam block
How do I make cake pops without buttercream?
Make a cake of your choice. I really recommend the cupcake recipe below. This will give you around 30 cake pops, depending on how big you make the cake pops.
Jump to Recipe
This next bit is essential for making your cake pops without buttercream.
Once the vanilla cake/ s have come out of the oven, leave for 5 minutes but at this point, you are going to put the cake into a bowl or stand mixer and you are going to mix.
The heat helps as the cake is moister and will help bind the cake into a dough.
Start off with your mixer at a slow speed and gradually increase the speed. Eventually, you will have a dough that can be moulded into cake balls or your desired shape.
To get an even set of cake pops I use weighing scales or a melon ball maker to get the sizes all the same- you are looking at roughly 20-25 grams each.
Place each shape onto a lined baking tray. (Simply place a piece of baking paper onto a baking tray)
Once you have made all the shapes, place the baking tray into the fridge to cool completely.
With the cake pops cooled you can now either freeze for another day. If you are making on the same day you can add the sticks ready for the next stage.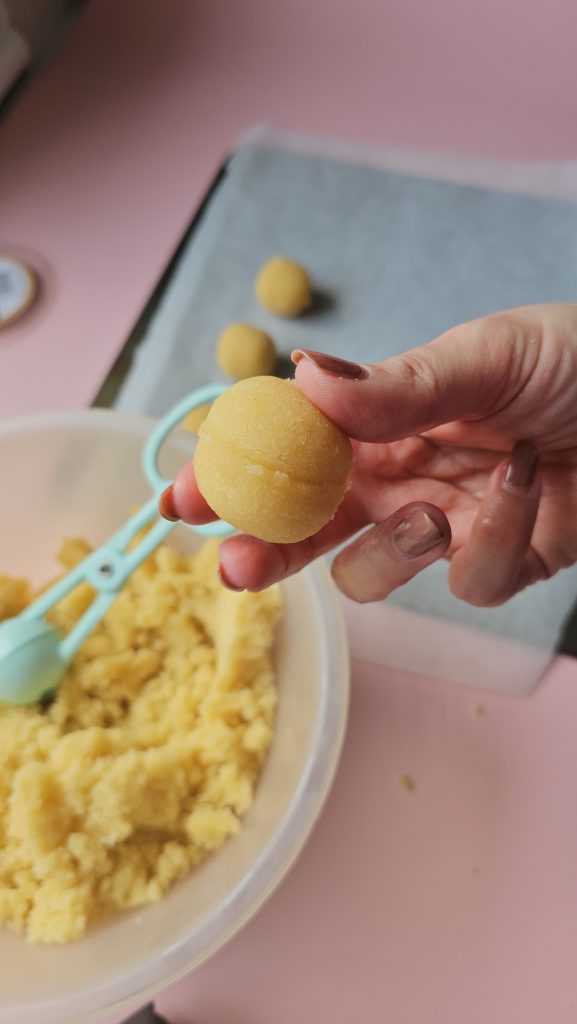 Dipping the cake pops in chocolate or candy melts
Use a small amount of chocolate (this does not need to be tempered) or candy melts, dip the end of the stick into the chocolate and then place the stick into the cake pop.
Again leave these set in the fridge.
When you are ready to make the cake pops melt your candy melts (this is the simplest option). Or temper your chocolate and colour it. I have a great post on how to temper chocolate easily –see here.
Making sure your cake pops are not too cold, dip the cake pop into the chocolate. Ensure there is not any excess chocolate that is likely to drip down the stick. Place the stick into your stand or whatever you are using to let them set at this point.
Decorate with any sprinkles whilst the chocolate is still wet.
Repeat this with the rest of your cake pops.
At this point, you can leave them as they are, or you can wrap them in cellophane wrappers to gift them or rearrange them in a different way. The ways cake pops can be decorated are endless but I suggest starting with sprinkles if this is your first attempt.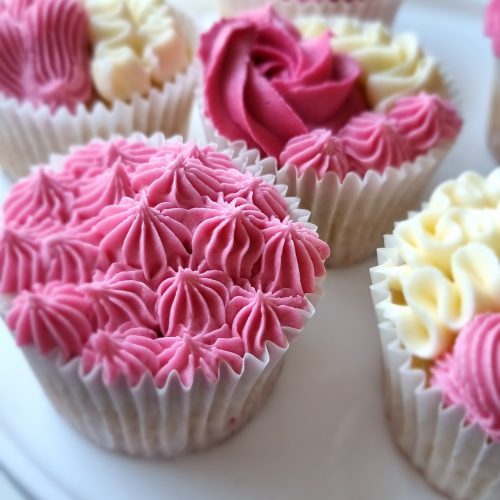 Vanilla Cupcake Recipe
A classic must have recipe for any home baker
Ingredients
80

g

flora buttery/ margarine

240

g

plain flour

1

tbsp

baking powder

280

g

caster sugar

1

tsp

vanilla extra

230

ml

whole milk

2

large

eggs
Instructions
Preheat your oven 180 for fan oven/ 200 non fan/ Gas Mark 6

Place 14 cupcake cases into the muffin tin. (this is a rough estimate)

Pop the butter, sugar,flour and baking powder into your mixing bowl. Mix these on a medium speed until the mix resembles breadcrumbs.

I like to pop the vanilla extract,eggs and milk into a jug and give them a mix before adding to the flour/ sugar/butter mix.

Once you have mixed the eggs and milk together, gradually add this to the mix. Mix again on a medium speed until you reach a smooth consistency.

Once you have achieved a smooth consistency you can pop the mix into the cupcake cases. I fill the cases 2/3rds full. Ice cream scoops are great but do vary in size, the one i use gives just the right amount…. ha do I sound like Goldilocks?

This should give you around 14 cupcakes.

Once you have filled the cupcake cases , then time to bake! I bake these for 20 mins and I find this is the perfect time but it could depend on your oven.
Making homemade cake pops without buttercream can be an excellent alternative for those who want a lighter or less sweet dessert, or for those who have dietary restrictions.
It isn't the quickest process to make cake pops, but eliminating the buttercream and using a mixer to create your cake pop mix, does remove a few steps.
Give it a try and impress your friends and family with your delicious and beautiful cake pops and as always Happy Baking!