Vanilla Cupcake Recipe- A Classic Favourite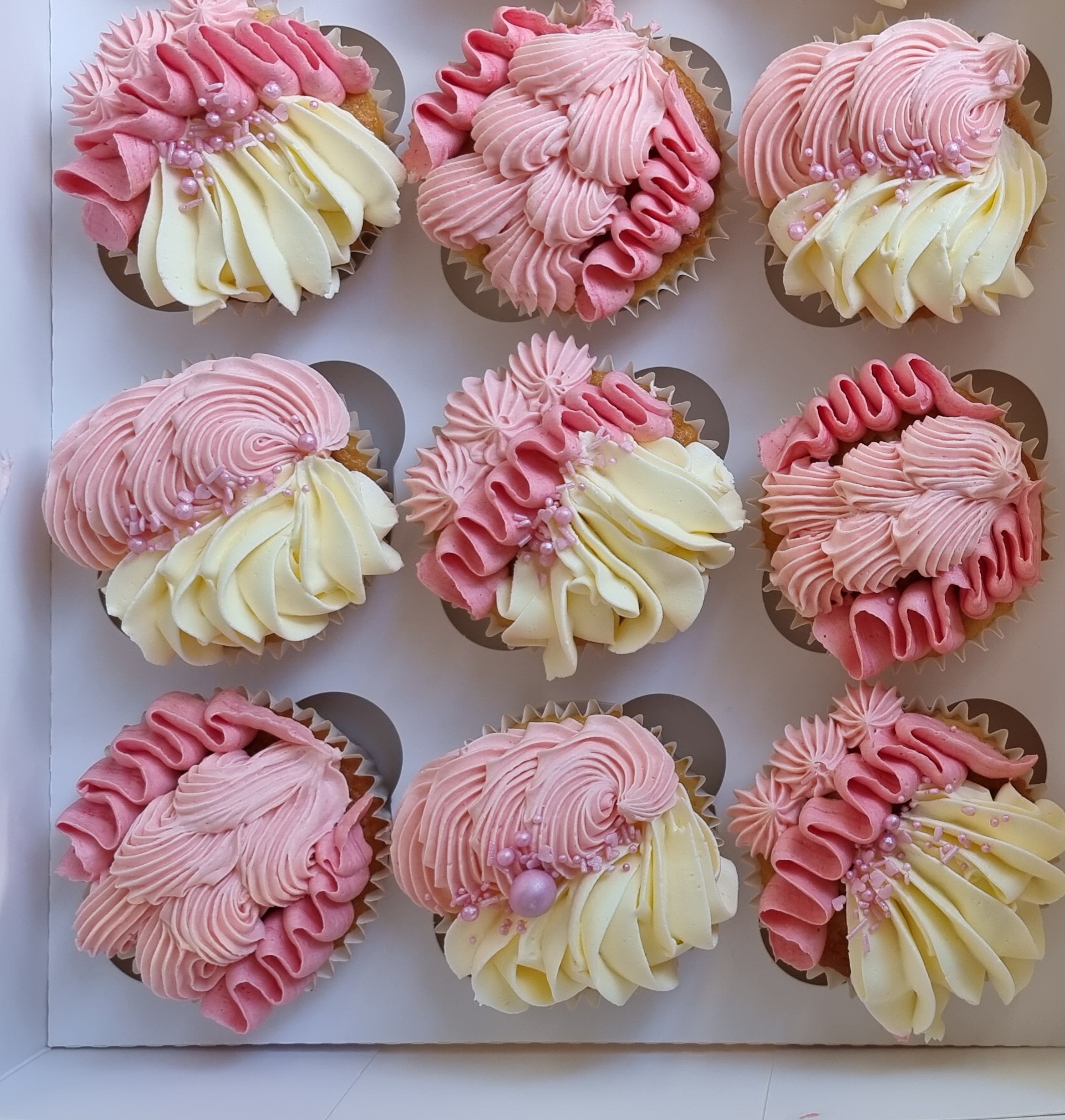 A classic vanilla cupcake recipe is a must-have for any home baker. This vanilla cupcake recipe is an easy and delicious way to indulge your sweet tooth.
Whether you are looking for a quick, fool-proof way to make cupcakes or something special to serve at your next gathering, this recipe will do the trick. These cupcakes are moist and fluffy with a golden-brown crust, and the subtle vanilla flavor will make them a favorite with everyone who tastes them.
With this recipe, you can easily create beautiful and delicious cupcakes without having to worry about them falling apart or being too dry. Follow these simple steps and you will be able to make vanilla cupcakes that your family and friends will love.
My vanilla cupcake recipe is also my go-to recipe to create perfect cakesicles or cake pops. Recently, I have found a perfect way to create a cake pop dough without the need for buttercream. I will pop the link here once it's done!
Jump to Recipe
This is a more complex buttercream design but I do hope if you stick with me you will get to learn not just the simple techniques but slightly more difficult ones.
Hopefully, that will enable you to create effective cupcake designs which will be perfect for your own parties or even as gifts for friends and family.
What equipment do you need to make these vanilla cupcakes?
This is a very good question and the best answer is not a lot. I know some of you reading this will think you need to have some fancy, schmancy equipment to make these cupcakes but the simple answer is not much.
Here is my absolute must list
Bowl
A hand mixer I recently purchased these after mine finally packed in. I reckon it must have been around 10 years old and very well-used. So far so good! I do feel this recipe to make vanilla cupcakes is better made using a hand mixer rather than a stand mixer.
Cupcake cases- I mean it's going to be pretty tricky without some cases!
These are my nice to have as well list
Spatula
Teaspoon
Ice cream scoop – I would not be without my ice cream scoop. It ensures that I have the same amount of batter in each cupcake case and therefore all cupcakes come out the same size. I actually have 2 sizes as I use a different smaller scoop for my red velvet cupcakes. This one is a 55mm one.
A sieve if your flour has got a bit clumpy, but honestly I don't know when the last time I used a sieve for any baking, let alone this recipe.
Optional Extras
Gel/ Oil Colours (as per the nozzles, I have some recommended gels in my Amazon Store)
Of course, these are optional for if and when you want to add piped buttercream to the top of your cupcakes. For now, you could simply spread some on with a palette knife and they will still taste delicious!
Jump to Recipe
Do I need the most expensive ingredients to make these Vanilla Cupcakes?
I am hoping to do a test regarding this topic, especially since the cost of a lot of items seems to be increasing all the time, but for now, here is my opinion.
When making these Vanilla Cupcakes, due to the nature of the mix, I do not believe you need the most expensive flour and butter. For this recipe I use supermarket's own brand self-raising flour.
You can buy superior self-raising flour but for this particular recipe, I don't feel it adds anything- who wants to spend more unnecessarily?
I also use flora buttery (margarine will do also) for this recipe. I don't feel it's necessary for you to use block butter but this can be used it's a personal preference. Self Raising flour, I just use the supermarket's own branded item.
Eggs, I do buy free range (that is a personal preference, I would like to think I am getting from hens who are looked after better) and I must admit I do feel you need the large egg size for this recipe.
Although medium will make great vanilla cupcakes, I just feel large gives you a better outcome.
Milk- well just get whole milk, there aren't a lot of different brands to choose from are there?
Vanilla extract, I buy the Neilson Massey vanilla extract. I only ever use the good quality extract as it has a stronger, purer flavour than the essence. This is a little bit more expensive but well worth it.
How long will the cupcakes stay fresh?
Well isn't that a question, who lives with you? All jokes aside, I usually make the cupcakes the day they are going to be eaten or the day before. You might need to watch for peeling cupcake cases if you bake the day before. Peeling cupcake cases can be a nightmare but I am going to be writing a whole post dedicated to this topic, so keep your eyes peeled
The cupcakes are best eaten on the day of baking or the day after. They will still be ok on day 2 but by day 3 they will be starting to go hard and stale.
Right, let's dive into the recipe!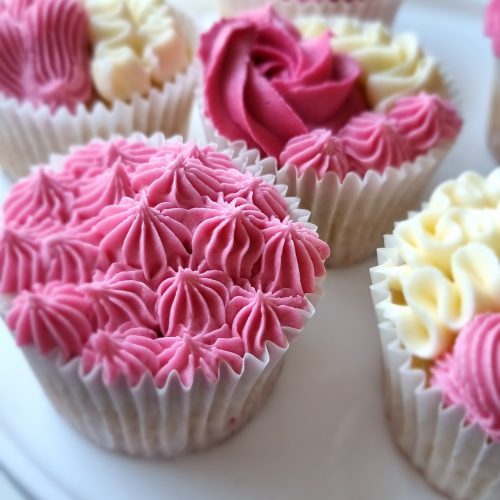 Vanilla Cupcake Recipe
A classic must have recipe for any home baker
Ingredients
80

g

flora buttery/ margarine

240

g

plain flour

1

tbsp

baking powder

280

g

caster sugar

1

tsp

vanilla extra

230

ml

whole milk

2

large

eggs
Instructions
Preheat your oven 180 for fan oven/ 200 non fan/ Gas Mark 6

Place 14 cupcake cases into the muffin tin. (this is a rough estimate)

Pop the butter, sugar,flour and baking powder into your mixing bowl. Mix these on a medium speed until the mix resembles breadcrumbs.

I like to pop the vanilla extract,eggs and milk into a jug and give them a mix before adding to the flour/ sugar/butter mix.

Once you have mixed the eggs and milk together, gradually add this to the mix. Mix again on a medium speed until you reach a smooth consistency.

Once you have achieved a smooth consistency you can pop the mix into the cupcake cases. I fill the cases 2/3rds full. Ice cream scoops are great but do vary in size, the one i use gives just the right amount…. ha do I sound like Goldilocks?

This should give you around 14 cupcakes.

Once you have filled the cupcake cases , then time to bake! I bake these for 20 mins and I find this is the perfect time but it could depend on your oven.
If you only want enough mix for say 6 cupcakes then scale down your recipe in half
40g Butter, 140g caster sugar, 120g self raising flour, 1 egg 115 ml of milk and half tsp of vanilla extract
This will give you the perfect mix for 6/7 cupcakes (one spare for you if you only need 6!)
If you want more than double the mix, I find that gives me 30 cupcakes. I have even done 1 and a half times the mix, it's very versatile and the eggs work and you don't need to worry about baking powder or bicarb.
I hope you enjoyed the recipe and as always, happy baking!